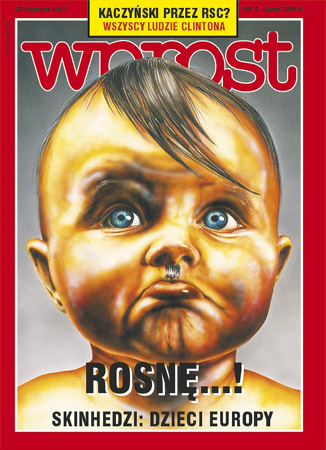 RATE THIS EXAMPLE FROM "BENEFICIAL" TO "HARMFUL"
Rate More >
Translate to other languages
Background Information
okładka tygodnika "Wprost" z 1993 przedstawiająca twarz dziecka z cechami charakterystycznymi wizerunku Hitlera, karykatura Dariusza Łabędzkiego
Technique Used
Activate Emotion
This is propaganda because
Zestawienie niewinności twarzy niemowlaka z charakterystyczną grzywką, wąsikiem oraz wyrazem twarzy A. Hitlera budzi silne emocje. Zestawienie tych dwóch światów budzi sprzeciw, jednak zaciekawia. Dopiero, kiedy czytelnik zwróci uwagę na napis znajdujący się pod karykaturą: "Rosnę!... Skinhedzi Dzieci Europy", intencja przekazu staje się jaśniejsza. Okładka zwraca uwagę na niebezpieczeństwa wynikające z nasilenia ruchów młodzieżowych zafascynowanych ideologią bliską nazizmowi.
Source
archiwum tygodnika